Move Over To Green Electricity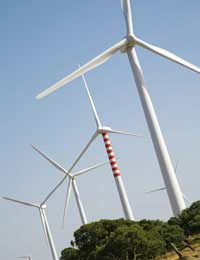 With one third of the UK's impact on global warming resulting from the generation of electricity to power the nation, it is high time we sought green energy alternatives.
An Alternative Electricity Source?
Every year the UK's power stations pump out million of tonnes of Co² gas, more than the 100 least-industrialised nations combined. Reducing the amount of electricity we consume may help ease the strain on the environment but as long as that energy is being produced by environmentally damaging power sources, we will only ever reduce the harm, not stop it altogether.
Two thirds of the UK's electricity is generated by burning coal and gas in power stations.
The remaining third is generated by nuclear power, which although has a lower carbon impact, has its serious environmental concerns all its own. But is there an alternative?
Our greenest alternatives are renewable energy sources. All energy generation will cause some degree of impact but renewable sources are much cleaner and are so named because they utilise the earth's natural energy flows, such as tides, sunlight and wind energy and as such will never run out.
What Is Green Electricity?
Whereas brown electricity is energy produced from burning fossil fuels, 'green electricity' is that generated by less harmful sources such as solar, hydro and wind power, as well as the less common and lesser known wave, tidal, geothermal, biomass, landfill gas and waste incineration.
But unless companies start generating their own energy using solar panels, wind turbines and other forms, how can they supplant their brown supply with that produced by renewable sources?
Green Electricity Tariffs
In the last few years
electricity supplier
s have begun offering customers the option of choosing a green tariff. By opting to move over to green energy, businesses can not only reduce the environmental impact of their energy needs but also support the UK's renewable power industry, which has the potential for being the largest renewable generator in Europe.
Ideally switching to a 'green electricity' tariff would simply involve your supplier disconnecting your brown electricity connection and plugging you into their renewable energy supply instead. Unfortunately, at present it is far from being so straight forward.
Renewable energy is pooled into the national grid with all the electricity generated by less environmentally friendly sources. By signing up to a green tariff you stay connected to the main grid with everyone else but for every unit of electricity you use, the supplier will add one unit of renewable energy to the grid.
Therefore by adopting for the costlier green tariff, you are not paying to power your office with green electricity but in theory paying the energy supplier to produce more green power than brown.
The Renewable Energy Obligation
Only in theory, however - the presence of the Renewable Energy Obligation (REO) that requires all suppliers to provide a percentage of their electricity from renewable sources has blurred the issue somewhat.
If an energy supplier is struggling to reach the current demand of having to source 9% (increasing to 15% by 2015) of their electricity supply from renewable's, then however many or few customers have opted for a green tariff will not make any difference, they won't be able to produce any more or any less.
Consumer confusion and uncertainty over the environmental benefits of green tariffs explains why they have yet to prove a big hit. With no scheme currently in place to substantiate suppliers' green claims, it is hard to tell whether your extra money would make any difference or just be a token gesture of support for the environment.
Opt For Smaller Suppliers
Nevertheless, green tariffs are far from being a complete waste of time. The solution is just to avoid the big six suppliers (EDF, Scottish & Southern, eon, Scottish Power, nPower and British Gas) and instead opt for a smaller energy provider – particularly one specialising in green energy – who is currently producing more renewable electricity than required by the REO.
In supplying less energy, such smaller concerns are blessed with a much smaller target percentage. And by investing in a green tariff with a company already on top of their 9%, your money will pay for a further increase in the generation and supply of green energy rather just to help a company reach the minimum requirements.
For advice about choosing the right green tariff for both you and the environment, the independent gas and electricity watchdog Energywatch, offers a tariff guide.
You might also like...