Improve Heating & Cooling System Efficiency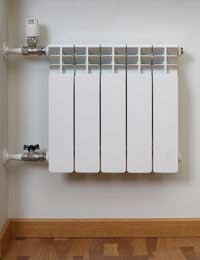 With heating accounting for almost 35% of office energy bills and air conditioning doubling energy costs, there is ample opportunity for energy saving by improving heating and cooling system efficiency.
Establish Office Temperature Policy
The first stage in improving heating and cooling efficiency in the workplace is to install a standard policy for office temperature.
Begin by establishing a set temperature for the office. It is recommended that the thermostat should rest somewhere between 19 - 21oC.
Although this may initially feel chilly to some staff members and prompt a few calls of complaint, it won't be long before everyone acclimatises.Anyone unhappy about having to put on an extra layer of clothing should be reassured by the fact that just a mere 1oC drop in temperature can shave off 8% from the energy bill.
When setting the temperature at which the air conditioning kicks in, remember to make allowances for a gap or 'dead band' of around 4 or 5 degrees between that and the heating control.
This is to prevent both systems operating at the same time as this means they waste energy by working against each other.
For maximum efficiency, the heating and cooling systems should not be managed manually but by using timers and sensor controls, and maintained carefully to account for any changes in building occupancy.
Develop Operating Manuals
If the operating system and procedure is relatively complex then it is recommended to develop operating manuals for all cooling and heating equipment. These would take into account setup schedules, on and off time schedules, special requirements and features and also be regularly updated according to changes in building occupancy schedules.
Rules Of Common Sense
A lot of rules about heating and cooling the office efficiently come down to simple common sense.
For instance, if you are paying to have heated or cooled air then it makes sense to look after it. All windows and doors should therefore be kept closed to prevent it from escaping. Also a heating or cooling system can not function effectively if windows or doors are left open.
And if the temperature system is working effectively then staff should never need to open a window to let in cooler air because they are too warm. If they do then this is an indication that the thermostat is set too high.
The temperate air could also of course be making its way out unaided, such as through cracks and gaps in windows and doors. If any employee notices a draught then it should be fixed as soon as possible. One simple little repair could save energy and improve the comfort of staff.
Radiators
As much as the air should not be allowed an easy escape, it is also important to allow its easy passage into the office. All radiators should be free from any obstruction - such as furniture - otherwise it will adversely affect the passage of the heat into the room.
As a rule office radiators should be set appropriately and then not touched again. It is not advisable to continually turn the radiator nearest to you up and down according to your level of comfort. Thermostatic radiators each have a valve that senses the temperature around it – switching units on or off, in accordance with how cold the room is.
Where Not To Heat
The heating and air-conditioning systems may be installed to cover the entire office building but that doesn't mean the whole office needs to be heated or cooled. It is unusual for staff to spend extended periods in corridors, hallways, storerooms and kitchens, so why waste energy maintaining a temperate climate in these areas? The temperature in these spaces should therefore be set lower.
If there are any rooms that are not in use at all then the heating and cooling systems should be turned off completely. Nevertheless, in order to prevent condensation and mould, it is important to make sure such rooms are well ventilated.
You might also like...