Allocate Green Policy Responsibilities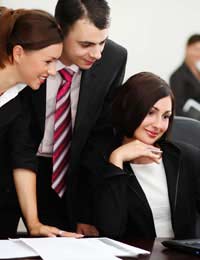 After formulating the green office policy, the next step is to allocate the people responsible for bringing its vision to life.
Appointing A Green Office Coordinator Or Committee
Establishing a green office initiative is not simply a case of putting up a environment 'to do list' on the wall and expecting everybody to heed its instruction, it is a consuming operation that requires a lot of time and dedication.
For this reason it is necessary to appoint either a special coordinator or a committee – depending on whether it's a large of small organisation – to take charge of implementing the sustainable policy directives. In carrying out this responsible role, the appointees must be given adequate time and resources as well as direct access to all department management.
A Well Balanced Green Office Taskforce
The whole of the office sphere should be represented by the green policy taskforce. It should therefore adopt members from ground level staff, senior management and other positions that are important to the day-to-day running of the office, such as the building manager and the purchasing officer.
By including a broad range of membership the team will have a better understanding of all aspects of office operations and be in a better position to make independent decisions. If the committee are detached from the areas they are in charge of updating, then the process of engaging and coming to a decision with the appropriate parties will ultimately make the whole process very slow moving.
Within the committee itself responsibilities could be designated any number of ways, depending on the policy directives, type of office or plan of action. Each member could, for example, take charge of a specific area, such as recycling, energy or air pollution.
A Well Connected Environmental Coordinator
If the organisation is relatively small, and requiring only a single coordinator, then there will be less of a problem connecting together the dots of the disparate office sectors. However, the candidate will nevertheless need to be an experienced staff member, conversant with all aspects of office management and well connected and respected by staff of all levels.
Once the responsibilities are allocated so that everybody involved knows what their role is in the operation, it is important to inform everybody in the office of the roles. Anybody who has a problem, idea or a query about a green policy issue will therefore know who to contact.
The Importance Of Staff Involvement
One of the key aspects in implementing a green strategy is maintaining good communication throughout the organisation. It is should be an open, public exercise, not a stealth operation where green office initiatives are introduced without anyone even noticing.
Good communication between coordinator, or committee, and the rest of the staff is crucial. Research shows that almost every office employee would be willing to adopt environmentally friendly working practices if only they are shown the way. By encouraging everyone to get involved in the project, and think about how the office turning eco-friendly and what benefits it will introduce, you will likely earn their full cooperation and enthusiasm for your plans.
Therefore the green policy representatives should not only be focused on implementing the green designs, but also make it their duty to explain to all employees, at all stages of the programme, why, how and what you are doing and when it is to be implemented. If carried out properly, going green can be a positive, team-bonding experience for the whole office.
You might also like...