Raise Green Awareness in the Office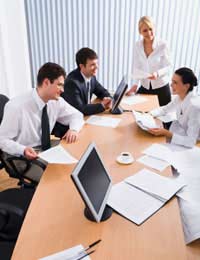 For a green policy to be successful it must gain the acceptance and commitment of every employee. The key to this is in raising green awareness in the office.
Taking The Lead
The first major step in raising green awareness in the office is to secure the full commitment of senior management.
It is said that the majority of UK office workers are willing to adopt more environmentally friendly working practices if only the management took the initiative and implemented a strategic approach to creating a more sustainable workplace.
There are significant benefits for management who take that leap and embrace more eco-friendly working practices - businesses that have done reportedly enjoy reduced costs and a more integrated and communicative workforce.
Raising Awareness Amongst The Staff
If an environmental policy has been established and accepted then the first stage, that of securing the green commitment of senior management is complete. The next stage is critical to the success of the initiative - raising awareness amongst the staff.
Businesses that have introduced their own green office programme have found that employees have largely been actively supportive of such initiatives. However, for it to have a quick and seismic effect it is still necessary to 'tap' into this dormant enthusiasm by employing a variety of awareness raising techniques.
Educate Staff About Environmental Policy
Employees tend become more involved in the environmental affairs of their workplace once they realise how much energy they themselves can save just by making small adjustments to their daily work routine. It is therefore highly recommended to accompany the introduction of an environmental policy with staff awareness training.
Energy conservation talks and staff training should be provided for all staff members to encourage them to think of energy efficiency as part of their daily work practice. It should show how simple actions like switching off lights, saving office supplies, turning off computers and turning down heating can have a hugely positive effect on both the environment and their office working life.
The government funded organisation Carbon Trust offers staff awareness training for those companies that have shown a clear commitment to implementing a green policy.
Implement A Poster Campaign
It's easy for employees to sit down at their desk, switch on their computer and become completely immersed in their day-to-day work routine, temporarily forgetting the new green office campaign. A good way of maintaining staff awareness is to introduce a poster campaign.
The Carbon Trust have devised a series of posters and stickers that can be used by all different types of organisations to encourage staff members to adopt simple energy efficient actions in the office.
In addition to four colourful stickers reminding employees to 'switch it off', 'turn it off', 'turn it down' and 'close it', the Carbon Trust have developed a series of striking posters that inform them of the wasteful effects of simple office actions, such as leaving a photocopier on standby over night, and leaving the lights on.
Promoting Employee Targets
Introducing an environmental policy into the workplace should not be simply a case of drawing up a new list of office rules, which staff must follow or else face reprimand - they must switch off their computer at night and must dispose of their waste correctly. This is the wrong attitude.
For a green policy to be successful it should operate so that the whole office is working together towards a greater good. With this attitude in mind, there is the potential for developing a variety of programmes to encourage employee participation.
For instance the green committee could regularly monitor office energy use and present regular progress reports or display them around the workplace. This would clearly demonstrate to staff members the effect that their small measures are having and encourage them to boost their efforts further. The introduction of targets and rewards may also prove a winning idea.
You might also like...