The Green Building Design Advice Service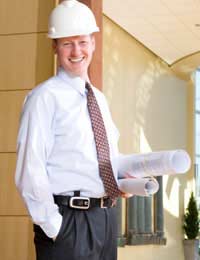 Building developers concerned about the impact their new constructions will have on the environment can call on the Carbon Trust for expert green architecture advice.
Green Building
As society becomes increasingly troubled by its detrimental impact on the environment, attention has turned to one of the lesser publicised but major contributors to global warming, the building sector.
With buildings contributing around half of the UK's total carbon emissions, there is strong call for efforts to combat the damaging effects caused by the construction industry.
Although there is no such thing as a 'green' building, there are many practical and subtle design, material and location considerations that can help create a construction that is in greater harmony with the environment over and beyond its lifespan.
In a concerted effort to realise this goal of sustainable building, the Carbon Trust – a government-funded company set up to combat climate change by promoting energy efficiency and carbon emission reduction – has set up a range of green design and building advice services.
Low Carbon Building Design Guide
The Low Carbon Building Design Guide is a detailed overview of everything you need to know about creating or adapting environmentally-friendly non-domestic buildings. It covers subjects such as choosing the right technologies for your development and tips on keeping it maintained. The guide is available for free from the Carbon Trust.
Consultancy Advice Service
Although its advice is useful for all non-domestic developers, the guide is primarily aimed at those tackling smaller builds of up to 2,500m². For those with eyes on bigger prizes, specifically builds or major renovations of between 2,500 to 10,000m² in size, the Carbon Trust offers a free or subsidised consultancy advice service for schemes that have not yet moved beyond the planning and design stage.
In return for Carbon Trust's generous offer of - often - free help, they do expect a strong show of commitment in return. Developers are, for instance, expected to undertake detailed monitoring and assessment of both the advice they receive and the measures implemented as a result.
How much help you receive from the Carbon Trust's expert consultancy team will depend on the size of the project and its potential for carbon saving. In essence if your development presents an opportunity for saving vast quantities of CO² then the Carbon Trust will lavish attention on your plans and designs. Generally speaking, the rule is the larger the development, the greater potential for carbon saving.
With this in mind, building developments in excess of 10,000m² can expect a high level of input from the Carbon Trust. Consultancy advice will be given at phases throughout the lifespan of the building project – from RIBA (Royal Institute of British Architects) stage A to D - which between planning and handover could amount to over 10 days support.
Environmental Advice On Multiple Projects
If your project includes a number of constructions of the same design then the Carbon Trust will willingly help ensure that the best green practice is weaved into the standard designs from the off. There is a great potential for carbon conservation if the template designs are 'green', because the eco-friendly concessions within the plans will be repeated over every time they are reused to erect another building.
You might also like...