Go Green in the Work Canteen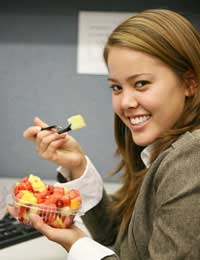 Going green in the work canteen is as much about eating and drinking healthily as it is about choosing food in an environmentally responsible manner.
Healthier Employees ... More Productive Workplace
With about 60% of our waking hours spent in the workplace, and one adult meal in three eaten at work, our workplaces have a huge potential as a positive force for encouraging us to eat both healthily and environmentally responsibly.
This is great in theory, but surely not all employers are not so ethically minded to be convinced that healthier employees and reduced environmental impact are good enough reasons to invest time and effort in initiating such changes in their canteen kitchens?
They may, however, think again if attentions are drawn to the numerous beneficial effects that setting up a healthy green workplace canteen would have on their business. These include:
Increased concentration and energy levels
Better working atmosphere
Increased motivation
Better public image and more attractive as an employer
Reduced sickness, and absence
Ultimately a green and healthy canteen can mean increased productivity for the business.
Poor State of Canteen Culture
At present many work canteens are, like school dining halls, far from breeding grounds for productive, motivated and happy staff. They often serve poorly sourced foods that are bought in bulk from institutional caterers. The food is often prepared and presented with minimum flair and imagination, and lacking in necessary nutritional value.
With canteens so unappealing it's no wonder that many employees venture off the premises for more exciting, but often equally unhealthy, options or, even worse, just don't bother with lunch at all and stay locked to their workstation.
Health Considerations
There are lots of ways to improve the healthy options available in the work canteen.
Firstly, meals should be based on starchy foods such as bread, pasta, rice and potatoes, and this should vary from day to day.
As everyone should be eating five portions of fruit and veg every day, there should always be variety of vegetables available. A variety of colours are advised in order to provide a range of nutrients. It is also better that the vegetables form part of the main meal rather than appear as optional side dishes.
Fruit should be available both as individual pieces in fruit bowls, and as part of a dessert, such as a fruit crumble or fruit salad.
Treats like cakes and pastries shouldn't be cut from the menu but instead prepared in a healthier manner. For instance, cakes can be made with less sugar, and more dried fruit and wholemeal flour.
Healthier Cooking Methods
Cooking can be made healthier by opting to grill and bake foods rather than fry them. Cooking with unsaturated fats, such as olive or sunflower oil, can also reduce the fat content of dishes. It is also advisable to steer clear of creamy and buttery sauces.
Fresh and Locally Sourced Ingredients
Processed foods not only contribute 75% of the salt in the diet, but also burn up a lot of carbon in production, and are best avoided as much as possible. Frozen foods, wasteful over-packaged foods, and food with needless air mileage should also be steered clear of.
It is better to instead focus on obtaining more fresh, local and seasonal ingredients. By doing so you also create a more naturally varied and attractive menu.
Good Vegetarian Options
It is vital to always have a vegetarian, and even vegan, option. What's more this could be promoted as the greener choice, as many believe that growing and producing plant-based food is a more efficient use of land and resources than producing meat.
Rather than the vegetarian mainstays of cheese and pastry, non-meat dishes should be based instead on vegetables, salads and pulses.
Fresh Tap Water
The UK addiction to bottled water is baffling considering the country's tap water is one of the highest quality tap waters in the world. It is also very cheap, and equal to the taste of bottled water. What's more drinking bottled water is bad for the environment as it generates thousands of tonnes of plastic waste.
With this in mind it is crucial that any employer with green aspirations makes fresh cooled tap water freely available, and not only in the canteen but in the workplace too.
You might also like...