Can Plants Reduce Office Air Pollution?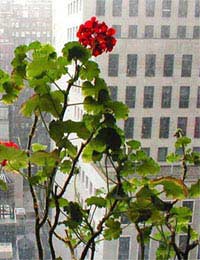 Many believe that plants in the workplace have significant benefits not just in creating a pleasant atmosphere but also a healthy one, but is there any truth in this?
The Office Plant Debate
The infusion of nature in the office can ease the mental strain of employees and offer reassurance that life and beauty can still survive in the deathly grey oppression of the modern workplace. The positive mental and environmental effect of office plants is widely accepted but what is still a subject of debate is whether, as many claim, they purify the air and create a healthier atmosphere.
The Air Pollution Threat
Indoor air pollution and low humidity are now considered two of the biggest threats to the health of the population. Offices are a particular hive of pollution – toxic fumes from cleaning products, computers, photocopiers, carpets and other office supplies.
Constant exposure to such pollutants can lead to nausea, dizziness, respiratory disorder, lethargy, allergic reactions, asthma problems and just general feelings of being under the weather. Unless efforts are made to counter these effects then poor employee performance and sick days will be the consequence.
Ozone-Friendly Office Supplies
Scientific evidence suggesting that plants are good for employee health and office air quality is growing steadily.
Research at an oil company in Norway found that plants caused a reduction in health problems amongst staff, with fatigue falling by 30% and headaches by 20%. Another study at the University of Washington discovered that staff housed in a windowless office surrounded by plants had 12% faster reaction times when completing computer tasks and lower blood pressure.
The Environmental Office Plant
But what are plants doing to have such positive effects over their white collar colleagues? Although it may look like they just stand around looking pretty, in their own silent way plants are being as productive as the office staff, if not more so.
Not only do they help purify the air by soaking up the carbon dioxide we breathe out and replace it with oxygen, but they are also believed to reduce the number of allergens in the air by attracting dust particles – so good news for asthma sufferers.
Evidence also suggests that within the foliage hides a powerful filter that cleans the atmosphere of harmful pollutants such as benzene, trichloroethylene and formaldehyde. And if that is not enough good turns, then they can also lower noise pollution and, on a localised level, restore a balance in humidity.
Friendly to the Ozone but to Office Workers?
Not everybody is convinced by the restorative effects of office plants however. Not only are there doubts about the claims on plants improving air quality but they claim that, in some cases, they can worsen the work environment. Research shows that some plants can cause skin or respiratory allergies, and if office managers are too enthusiastic about the power of plants and fill the office with too many plants, then they could actually increase humidity and condensation mould.
Ultimately there is little evidence to suggest that plants in the office are harmful to employees if they are kept under control and so even if they're not improving the health of workers, there's no harm in them standing around looking pretty.
You might also like...