Beware of 'Greenwashing' in Your Office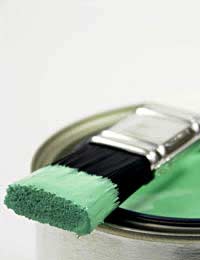 Companies battling for environmental credibility by making dubious claims for their products are threatening to destroy the green marketplace. And it's becoming increasingly difficult for consumers to differentiate between the genuine green claims and the greenwash.
The Threat to Green Business
The UK's 'green' marketplace has been booming in the last few years, with 'ethical' spending leaping up 81% since 2002. Green has become a very desirable market, but inevitably, with anything that draws consumers in their throngs, there comes exploitation.
Eager for a cut of the cash cow, companies are more than happy to satisfy this sudden hankering for all things green, but instead of actually producing the green products we want often they just dupe us into buying by making unsubstantiated and bogus claims for their products.
In attempting to dazzle consumer with often meaningless green watchwords like 'eco-friendly', 'environmental' and 'sustainable', or bamboozle them with sciency-sounding statistics – a brand of bottled water claimed to contain 300% more oxygen – advertising agencies are seriously undermining consumer confidence in the green pound. In fact they've taken such a beating that only 10% of consumers reportedly now trust green information from either business or government.
Are We Being Duped by Corporate Greenwash?
Greenwashing has left consumers not knowing who or what to believe, and they are becoming increasingly reluctant to fork out for green products. The risk of being duped by corporate greenwash is stronger than ever, as the sharp increase in the number of complaints to the Advertising Standards Agency (ASA) highlights.
In 2008, for instance, it upheld numerous complaints against Renault for branding its Twingo model an 'eco' car and showing it with leaves blowing out of its exhaust, despite it generating emissions that are among the worst for a car of its size. Utility companies are still the top draw for complaints to the ASA, but car companies and holiday firms are catching up fast.
How Can We Spot the Greenwash?
But as a consumer or business how can you spot the greenwash?
Firstly it's important to be suspicious if a claim on a product uses very general consumer-friendly watchwords – such as 'environmentally-friendly' or 'sustainable' - without any definite meaning. If a product claims to be environmentally-friendly then it should be supported by appropriate evidence.
Conversely, be mindful of a claim that attempts to bamboozle you by being over specific or use obscure jargon. Virgin, for instance, claimed its trains emitted 76% less CO2 than cars or domestic flights. But it failed to mention any details such as which flights or what cars. If it doesn't make immediate sense then be wary – often when you stop and think about it logically do you realise a claim is utter nonsense.
Inconsistent Stance on Green Issues
It doesn't make any sense for a 'dirty' company to produce green products either. You wouldn't buy ethical clothing from a factory that pumps toxic waste into a river. Likewise it's nonsensical to buy a product with one green attribute if the rest of it is un-green or, even worse, to buy a harmful project just because it has a friendly green label.
Other common tricks to watch out for include bogus third-party endorsement and adverts showing beautiful natural scenes to imply unjustified green claims.
Finally if a claim sounds too ridiculous to be true then it more than likely is. It's no surprise that when BMW launched an 'eco supercar that cleans the air as it drives', all was not as it seemed.
Spotting the Genuine Article
Unfortunately it is much harder to spot the genuine article. The most valuable advice is to first assess whether a company maintains a consistently pro-green stance in all areas of their operations. Many businesses boast about their green credibility whilst at the same time clamour for lower carbon-reduction targets.
Genuinely green companies tend to match what they say and do, they are also that bit more enthusiastic and committed to the environment than everyone else, going above and beyond what is expected of them. They are usually the ones first in line in funding and introducing green innovations, or adopting pro-green actions, even if they might harm business. They are known for setting themselves green targets and also seeking third party advice to make sure they doing it right.
You might also like...