What is 'Working Off the Grid'?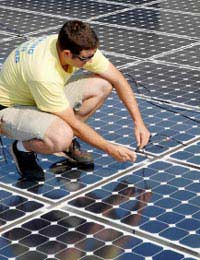 No longer preserve of hard-bitten survivalists and traditionalists, off grid living and working is becoming an increasing viable option for many - but what actually does it mean?
What is 'Off the Grid'?
The term 'off the grid' refers to a self-sufficient lifestyle where people are not reliant on public utilities such as electricity or water. Motivations for doing so could be to save money, a way of getting back to nature and traditional values, the satisfaction of living in complete independence, but increasingly it is done as a way of minimising ones impact on the environment.
In extreme cases living off the grid involves complete home autonomy free from all traditional public utility services, where householders don't rely on a municipal water supply, grid electrical power, petrol supplies, or even sewerage services.
For instance, water can instead be obtained from local well, lake or river and be cleansed for drinking with the aid of pump or filtration appliances. In the US it is estimated that around a quarter of a million households now live off the grid.
Reaping the Benefits Off the Grid
However, it is not necessary to go to such extremes in order to reap the benefits and satisfactions of operating off-grid. Rather than pursuing complete autonomy, an increasing number of people apply the principles of off-grid living for one or more essential supplies.
For instance, households and workplaces can opt off the power grid by generating their own electricity on-site using renewable energy sources such as wind or solar. Heating can also be generated independently by using solar energy and from burning biomass materials.
Off-grid living and working is still in its infancy stage but experts believe in the future, households and workplaces will all generate their own energy using wind, solar and heat energy.
As is the case now, it is likely that many will operate alongside the national grid rather than independent from it. They might sell surplus energy back to the grid and dip into it when their own private supply is adversely affected by the weather, for instance.
Off-grid Test Beds
A retired couple on the most northerly inhabited island in Britain are leading the way by showing that it is possible to live off the grid whilst retaining all the comforts of a normal modern existence.
On the Shetland island of Unst, the Reas live out a happy off-grid lifestyle in a 'zero-carbon' house powered entirely by the wind and the sun. In addition to living in one of the greenest homes in the world, the couple generate all their power from renewable sources, grow most of their food, and run a car without a petrol station, making their lifestyle a model in off-grid living.
For a model in off-grid community living, one should look east to the Danish island of Samso. Wind turbines, solar panels and biofuels power the island's home and businesses and offset its small fossil fuel usage.
11 turbines stationed along Samso's shoreline and 10 ocean-based turbines generate the wind power that alone fulfils the island's electricity needs. Heating for residences, workplaces and water supplies is provided by both solar panels and biofuels that are made from straw, rye and wheat crops. Biofuels also power the main tool in the island's dominant agricultural industry – the tractor.
You might also like...