Questionnaire: How Green an Employee Are You?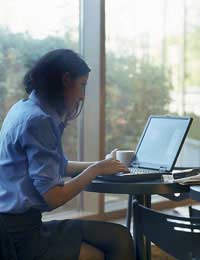 With the workplace accounting for 40% of the UK's carbon emissions, businesses have a duty to take major steps in reducing their impact on the environment. However, to help a business go green it is important that employees play his or her part. But how clued up are you on green issues to be able to lead the charge? Test your knowledge of green workplace facts with our simple questionnaire.
1. Office based business activities are responsible how many tonnes of CO2 emissions a year?
(A) 6.8 million
(B) 12.4 billion
(C) 1.3 million
2. On average, how much does energy waste cost UK businesses?
(A) 2.5% turnover
(B) 0.06% turnover
(C) 4.5% turnover
3. Small and medium sized businesses (SMEs) are said to be able to save approximately how much money per employee per year through basic energy efficiency?
(A) £100
(B) £1,000
(C) £100,000
4. How much would you need to turn the thermostat down to save 10% off your company's annual heating bill?
(A) 10 degrees Celsius
(B) 1 degree
(C) 3 degree
5. How much do monitors account for a computer's energy use?
(A) Two thirds
(B) 100%
(C) A tenth
6. By opting for natural light office illumination in the office rather than artificial lighting, how much do you think you would cut off the electricity bill?
(A)19%
(B)4%
(C)11%
7. If you turned off just your workstation overnight and at weekends rather than leave it on standby, how much money do you think would be saved a year?
(A) £63
(B) £13
(C) £112
8. How effective at saving energy is screen saver software?
(A) It saves energy but is no adequate replacement for switching off the computer entirely.
(B) Good quality screen saver software is very efficient at saving energy and for a limited period can be as effective as turning off the computer.
(C) It doesn't save any energy and in fact certain graphics-intensive screen savers can lead to the computer burning even more energy, and prevent it from entering sleep mode.
9. How many photocopies would you be able to produce from the energy wasted by leaving a photocopier on overnight?
(A) 100 copies
(B) 10,000 copies
(C) 1,500 copies
10. Fluorescent lights are most energy efficient when they are …
(A) Left on. This is because switching them on and off uses up a considerable amount of energy.
(B) Switched off when not in use. It is a myth they use less energy when left on - in 15 minutes a fluorescent light will have used 500 times the energy it used in coming on.
(C) Not switched on at all. Fluorescent lights are very energy inefficient and should be avoided.
11. How much could your company cut its lighting costs by simply switching off lights in empty rooms?
(A) Up to 15%
(B) Up to 50%
(C) Up to 5%
12. What percentage of office waste is paper?
(A) 15%
(B) 24%
(C) 70%
13. Out of these countries, which recycles the least?
(A) UK
(B) Greece
(C) Portugal
14. Although it is better to recycle an old computer than throw it away, it's actually 20 times more energy efficient to do what with it instead?
(A) Dismantle it
(B) Ship it to a country with greater space for waste disposal
(C) Refurbish it for reuse
Answers
(1)A
(2) C
(3) B
(4) B
(5) A
(6) A
(7) A
(8) C
(9) C
(10) B
(11) A
(12) C
(13) B
(14) C
You might also like...