Is Working from Home Better for the Environment?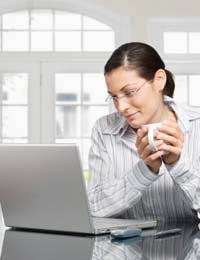 It's celebrated as the perfect combination of convenience and conscience but is working from home really better for the environment?
Reducing Car Travel by Home Working
Home working is becoming increasingly popular as people seek to improve the balance between their home and working lives. The attractions for the 3.4 million people – that's 12% of the work force – that now regularly work from home seems evident; you can work in peace undisturbed by colleagues, work more flexible hours and spend more quality time in the home environment.
Furthermore you can help save the planet - by not commuting in a car you not only save your time and sanity but you reduce the amount of greenhouse gases being pumped into the air. However, by working at home how much of your good work is being offset by using up more energy than you would have at work? This is the concern of a recent study which suggests that home working may not be so environmentally friendly after all.
Is Working from Home really so good for the Environment?
Whilst the quality of their working life may be improved, the quality of the environment isn't. In fact contrary to popular claims home workers could actually be contributing to global warming.
Independent consultants WSP Environmental found that home workers typically produce almost a third more CO2 in a year than employees based in the office.
The results highlight the fact that whereas office workers share their electricity and heating, staff working at home are generating a lot of energy for just one person. For instance, during the colder months, home workers might heat up a whole house whilst only occupying a single room, thereby wasting a significant amount of energy. They also might waste electricity by boiling a kettle of water for one person rather than several employees. What's more, as a further environmental concern, the more people work from home the greater number of computers there will be.
The study will have disappointed top industry and governmental figures who saw home working as a way for businesses to reduce their environmental impact and ease the strain on the UK's ailing transport network.
Planning and Managing Home Working
However that doesn't mean that home working should be struck off the list of green working solutions. A recent study by a team at Oxford University found that it can still be good for the environment if it is done in, "a planned and managed way".
Their research found that although working from home certainly has the potential to considerably reduce the country's carbon footprint, its good work is at present undermined not by home energy use so much as poor co-operation between the government and business over factors such as travel and IT provisions.
Governmental and Industry Responsibilities
Rather than seeing home working as a quick win green solution for businesses, the report says, the government needs to introduce policies to take better advantage of the potential savings achieved through more sensible working practices. These could include the provision of collaboration technologies. One conference call, for instance, can save an average of up 40kg if it replaces a face to face meeting.
You might also like...