What Are Green Collar Jobs?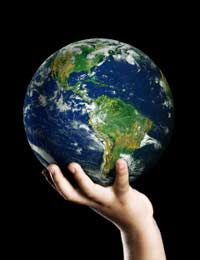 In 'green-collar jobs' politicians have discovered a catchy new buzz phrase that will help solve our economic and environmental woes. But what actually are they?
The Economic Solution
Although green jobs may have been around for as long as people have been concerned about the environment, 'green-collar jobs' are a relatively new phenomenon.
The term first rose to public consciousness during the 2008 US presidential election campaign when both Barack Obama and Hilary Clinton liberally sprinkled their respective energy plans with the buzz phrase, claiming that the US economy and environment could be saved with the creation of millions of green-collar jobs.
According to a report by the RAND Corporation and the University of Tennessee, a potential 5 million new green jobs could be generated if 25% of all US energy was produced from renewable sources. As part of his economic stimulus plan, Obama promised to invest $150 billion over 10 years in achieving that aim.
What is a Green-Collar Job?
But what actually are green-collar jobs, and how do they differ from green jobs?
The phrase was used to specifically describe those blue-collar type jobs that were to play a part in the new ecological economy. From manufacturing electric cars to installing loft insulation and fitting solar panels on buildings, these were the manual labour jobs that had the environment close to their hearts.
In theory, green-collar work and blue-collar work differs only in its principles and not practicalities. Two employees might both build cars, but the one manufacturing gas-guzzling Hummers is blue-collar, and the one assembling electric cars is green.
As well as helping the environment and reducing waste and pollution, the green-collar job has also been defined as one that offers decent wages and benefits to support a family, and also provides a proper career path with upward mobility.
With employment in the US manufacturing industry shrinking, the green-collar job sector is a potential future for all those workers whose jobs have been outsourced.
Broader Definition
As the world plunged into financial turmoil in late 2008, the appeal of the green-collar job as a means of reducing carbon emissions and combating economic woes was championed on the other side the Atlantic. In the UK and the rest of Europe, where blue or white collars are not standard terms, the definition of the green-collar job broadened into including anything with hopes of having a positive environmental and social impact, and anything that helps to put the economy on the path to a cleaner and more energy efficient future.
No longer does the green worker have to be an ecologist studying pond life, they could be employed in the fields of public transport, recycling, green building, energy efficiency, as well as in manufacturing. Green-collar jobs could be in almost any sector and in any company, whether large corporations, small businesses or non-profit organisations.
Criticisms of Green-Collar Jobs
Of course, the danger in broadening the job description is that anything with a green tinge is sold as green-collar, even if it doesn't have the wages and background to support it. This may succeed in sullying the term as a force for positive change and tar it with the 'greenwash' brush.
This is one concern of those sceptical about green-collar jobs. They argue that the green job is just an empty term used by politicians for political ends, and that by and large green jobs are no different or more efficient that the blue-collar jobs they are supposed to replace.
You might also like...