The Importance of a Green Office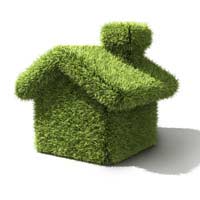 It isn't just to draw company kudos, a greener, cleaner more sustainable office workplace benefits ourselves, our daily lives and the environment we live in.
Climate Change and the Natural Environment
Scientists have long warned about the apocalyptic threats of climate change – hurricanes, droughts, East Anglia disappearing into the sea – but, although alarming, it was hard for many to see its link with our own insignificant daily existence. These are massive forces beyond our control, what can we possibly do about it?
It is only now, as extreme weather disasters are becoming commonplace and when many experts think it might already be too late, that it's finally hitting home that we all can and need to do something.
The Threat to our Sustainable Existence
By releasing too much CO2 into the atmosphere as a result of excessive energy use, and greedily using up all our natural resources, we are tipping balance of our sustainable planet and creating an environment that will be uninhabitable for future generations.
Many believe that improving energy efficiency is the key to bucking these troubling trends. The whole of the UK must therefore take tough immediate action on reducing its emissions. It's not just the government's responsibility, individuals, communities, companies and unions all have a role to play in environmental issues.
The Green Environmentally Friendly Office
Although many people have started to make their homes greener places, the office presents the best opportunity for most people to make the biggest difference. More emissions are generated in the workplace than in the home, with businesses producing 40% of the UK's carbon emissions, compared with 27% for households.
And it is not a thankless task - there is an incredible scope for energy saving in the office. The Carbon Trust says that small and medium-sized firms spend around £6 billion on energy annually, and of that they waste £1 billion, the equivalent to 12 million tonnes of carbon a year.
Therefore if businesses and organisations across the UK make concerted efforts to 'go green' the potential for energy saving would be immense. There truly is a strong connection between the lone office employee sitting at their workstation and the colossal environmental eco crisis affecting the globe.
Solar Power and other Green Opportunities for the Prospective Green Office
There are many different areas in which the office can adopt green practices to reduce its impact on the environment:
Switching to 'green electricity' – electricity derived from renewable power sources such as solar and wind.
Adopting recycling and eco redistribution policies to office waste management.
Reducing electricity use by switching off lights, workstations, photocopiers and appliances when not in use.
Taking steps to ensure the site buildings are sufficiently insulated and free of leaks and holes.
Introducing organic and locally produced food into the canteen.
Buying only environmentally friendly products from suppliers, such as recycled paper, biodegradable and organic goods and items that are free of hazardous materials.
Reviewing the use of heating and cooling systems. Is the temperature set at an unnecessarily high level?
You might also like...